Newmark Associates
Cunningham Celebrates Milestone Year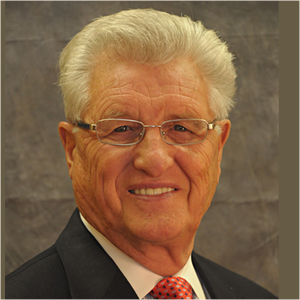 Cedar Knolls, N.J., January 16, 2020 – Newmark Associates held a gala cocktail party for Bill Cunningham, veteran commercial real estate industry leader, at the company's headquarters recently. The celebration honored Bill's 90th birthday and 28 years at Newmark Associates — currently, as a Vice President who specializes in Industrial Leasing and Sales.
Bill ranked among Newmark's top professionals in 2019, with his latest transaction topping off at $4,400,000 in his representation of both the listing and procurement of 2 Laurel Drive, Flanders, New Jersey. At Newmark's 2019 Annual Awards Luncheon Bill won the award for achieving a top lease transaction in the Industrial category.
In a multigenerational office where millennials and Generation Z share technology knowledge, Susanne Newmark, President and Founder of the company, lauded the veteran: "You have redefined what a fulfilling, successful and loving life looks like regardless of age. A consummate gentleman, you are an extraordinary businessman and colleague with whom I proudly share my days at the office."
Among many other accolades, a colleague at Newmark remarked that Bill "sets the bar so high – the sky's the limit"—praise which was echoed in diverse expressions by numerous colleagues, family and friends who attended the celebration. Seasoned CRE agents as well as new agents shared their admiration and deep respect for Bill's professionalism, work ethic, integrity, honesty and genuine caring for fellow human beings, in and outside of the workplace.
A Marine Veteran of the Korean War, Bill continues to be of service to others through his 30-year membership in the Morristown Rotary, where he served many years on the Board of Directors and a term as club president. He has been married to Pat Cunningham for 60 years, and they have 3 children and 6 grandchildren. Both he and Pat were given awards at Newmark's Annual Awards Luncheon in consecutive years for embodying key company values of Integrity and Professionalism.
Bill reflected on the company culture at Newmark in an interview: "The very supportive management style makes Newmark Associates the perfect place for me. So I never plan to retire."
Newmark Associates CRE, located in Cedar Knolls, New Jersey, celebrates more than 30 years in the commercial real estate industry as one of the top brokerage companies in the state, and has been recognized repeatedly with awards by both NJBIZ magazine, and the CoStar Commercial Real Estate organization. Specializing in lease and sales transactions of office, industrial, retail, land, healthcare and mixed-use properties, Newmark Associates customers range from regional, entrepreneurial firms to Fortune 500 companies. Certified as a woman-owned business by the Women's Business Enterprise National Council, Newmark Associates is registered as a Supplier Diversity provider with corporate members.