Newmark Associates
Newmark Associates Named Among Fastest Growing Privately Held Companies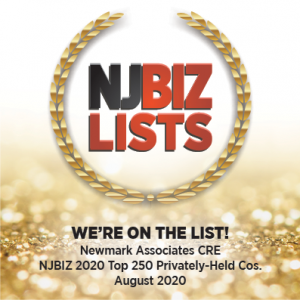 Cedar Knolls, N.J., December 17, 2020 – Newmark Associates, CRE, LLC, was chosen for the second year in a row by NJBiz Magazine to be among the state's Top 250 Privately-held Companies in 2019 – moving up 28 in the rankings from the previous year.
Nancy Glick, Chief Operating Officer for the firm, remarked regarding last year: "Even though it was a strong market year during which our company increased revenue, our success was then, and remains, driven by a culture of collaboration, diversity, and inclusiveness, as well as market expertise developed over decades of doing business in New Jersey." Ms. Glick highlighted that the firm's number of agents has dramatically increased in the past 8 years, again pointing to the unique culture of their workplace cultivated during its more than 30 years in business.
"Our company's strength throughout decades of changes and challenges in the real estate field rests in our ability to constantly reimagine what it takes to better serve our clients and customers," commented Susanne Newmark, Founder and President of the firm. "Integrity, straightforwardness, and intelligent use of marketplace data are key elements designed to enhance our reputation rather than solely create growth through revenue," Ms. Newmark emphasized. "We're foremost in the business of supporting companies to grow and prosper."
While noting the decrease in revenue industry wide as a result of COVID-19, Newmark views the firm's culture as its guiding force during these times. Newmark has been providing ongoing, non-compensated consultation to both tenants and landlords in navigating the impact of Covid-19 challenges. Newmark's professionals have been in conversation with clients in determining what's possible to maintain the prosperity of their business interests utilizing rent concessions, renegotiation of lease terms and other strategies designed for the specific needs of each company. Landlords have also sought out the expertise and advice of the Newmark team in navigating this challenging period.
Newmark Associates CRE, located in Cedar Knolls, New Jersey, celebrates more than 30 years in the commercial real estate industry as one of the top brokerage companies in the state, and recognized repeatedly with awards by both NJBIZ magazine, and the CoStar Commercial Real Estate organization. Specializing in lease and sales transactions of office, industrial, retail, land, healthcare and mixed-use properties, Newmark Associates customers range from regional, entrepreneurial firms to Fortune 500 companies. Certified as a woman-owned business by the Women's Business Enterprise National Council, Newmark Associates is registered as a Supplier Diversity provider.