Newmark Associates
Newmark Launches Retail Division & Taps Industry Veterans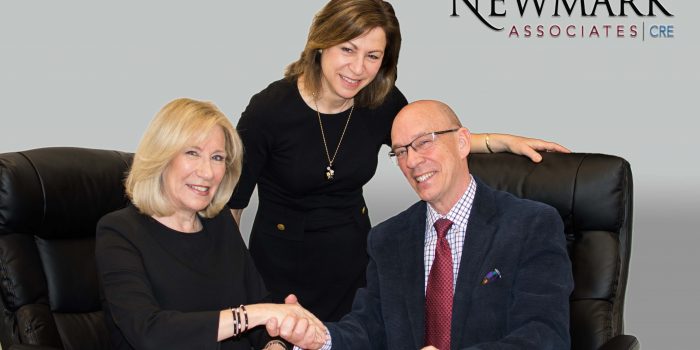 Cedar Knolls, N.J., March 25, 2019 – Newmark Associates has hired a veteran industry broker to head up its newly formed Retail Division — yet carving out another specialized niche in the ever-expanding reach of the largest New Jersey woman-owned commercial real estate firm.
Neal Richards, longtime industry broker, has joined the Newmark team to head up its newly designed Retail Division. He previously headed up a retail brokerage organization, Vanguard Realty, where he managed 35 sales associates over a 22 year span, specializing in shopping centers and central business district (CBD) properties as top producer and leader in this retail product class. Montclair landlord representation became a focused market where he completed transactions with such brand names as Urban Outfitters, South Moon Under, Blue Mercury, Playa Bowls, Star Bucks, Woodhouse Spa, Aveda Pure Energy Salon and Lululemon, among many others.
Previous to his work at Vanguard, he was courted by large retail CRE groups before choosing to join Jeffery Realty as a retail real estate Broker Associate where he represented both landlords and tenants such as TGI Friday's, LongHorn Steakhouse, David's Bridal, and Frank's Nursery and Crafts among other local New Jersey retailers.
Mr. Richards has successfully brokered CRE transactions over these past 22 years in the 7 northern counties of New Jersey for such clients as Commerce Bank North, HSBC Bank and Walgreens. He received the Co-Star Power Broker Award™ for 10 consecutive years from 2006 through 2016 — keeping good company with Newmark Associates, also a recipient of the same award over multiple years.
Mr. Richards commented: "I have collaborated with Newmark Associates for many years and when the possibility to direct a retail division presented itself, I immediately took it. I look forward to a long and successful relationship with the Newmark team."
Known by many in the commercial real estate business as the "honest broker," he espouses the belief "find your passion, embrace it, and you will find success" – a banner aligned with Newmark Associates' entrepreneurial philosophy and creative approach to the pursuit of excellence with a regional focus and global expertise. Among his responsibilities as Director of Newmark's Retail Division, Neal is excited to take on the role of mentoring other associates.
Nancy Glick, Chief Operating Officer, commented: "Neal has 30+ years of experience in the retail end of the business and we are honored that he has chosen Newmark to continue his career in Commercial Real Estate."
Joining Mr. Richards from Vanguard at Newmark is Nicholas Maria, formerly a Senior Vice President at Time Warner for 25 years where he won many platinum and gold records sales awards. For over 15 years, Mr. Maria has been in real estate sales, representing clients in both leasing and sales transactions.
Newmark Associates CRE, located in Cedar Knolls, New Jersey, celebrates more than 30 years in the commercial real estate industry as one of the top brokerage companies in the state, and recognized repeatedly with awards by both NJBIZ magazine, and the CoStar Commercial Real Estate organization. Specializing in lease and sales transactions of office, industrial, retail, land, healthcare and mixed-use properties, Newmark Associates customers range from regional, entrepreneurial firms to Fortune 500 companies. Certified as a woman-owned business by the Women's Business Enterprise National Council, Newmark Associates is registered as a Supplier Diversity provider with corporate members.