Newmark Associates
Susanne Newmark Honoredat Women Who Shine Awards Luncheon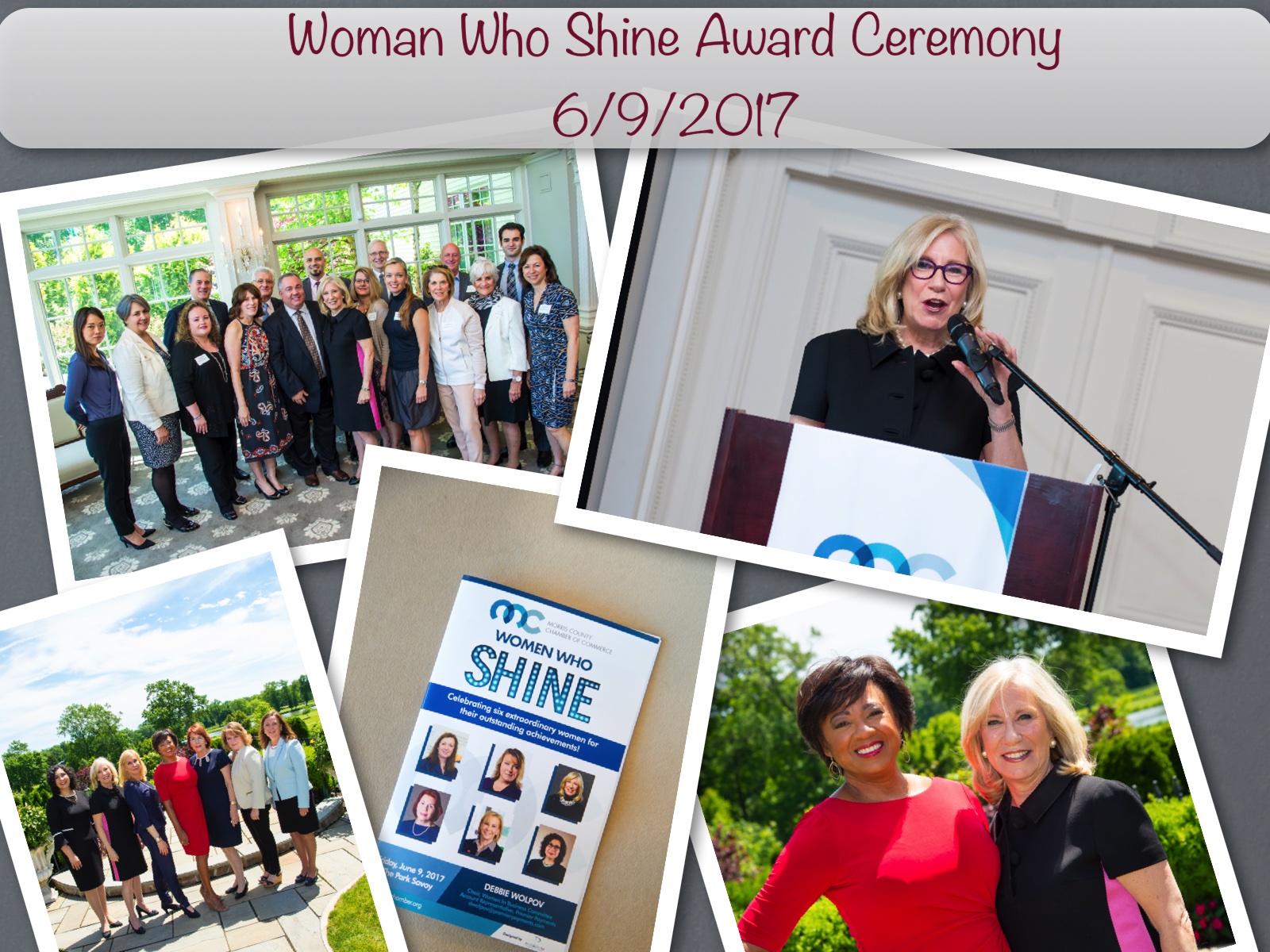 Morris County Chamber of Commerce Women Who Shine Awards Luncheon
Florham Park, NJ – July 7, 2017 – The inaugural Women Who Shine Awards luncheon was hosted by the Morris County Chamber of Commerce on Friday, June 9, and celebrated six Morris County women for outstanding achievements in both business and the community.
The six women honored include:
Dianne Hartshorn, founder and president of the Hartshorn Group
Christina Martinez, business development director of H2M Associates, Inc.
Susanne Newmark, president and CEO of Newmark Associates, Inc.
Trish O'Keefe, president of Morristown Medical Center
Robin Rotenberg, vice president of communications and chief communications officer of BASF Corporation
Cathy Roy, director of education at the Mayo Performing Arts Center
The award winners were chosen from more than 100 nominations submitted to the chamber by members. Criteria for selection included success in business, philanthropic activity and tireless efforts to invest in and advance women.
"These women are doing amazing things in their business sectors and in the community, which we think is a critical step in growing one's business," said Angela Kubisky, executive vice president of membership and marketing at the chamber. "Women are still under-represented in senior management positions in the business community and when successful women pay it forward to other women, they change the dynamics of women in the workplace."
The Women Who Shine Awards luncheon is being produced by the chamber's Women in Business Program. Pat Cunningham, Vice President, Newmark Associates, is an active member of the committee.
"Our program comprises successful women from disparate business sectors throughout Morris County," said Debbie Wolpov, national sales executive at Premiere Payment and program chair. "We felt it was time to recognize and honor those women in Morris County who are leading the way for other women and I only wish we could have recognized all our nominees."
 About the Morris County Chamber of Commerce
With more than 900 members, the Morris County Chamber of Commerce exists to support strong economic growth and promote a vibrant business community. Through opportunities to participate in committees, programs and events, the Chamber facilitates member connection with Morris County insiders. Members expand their customer base through diverse levels of networking; a voice in local and state government; promotional opportunities; community involvement; work force growth and development; support for diversity initiatives; identification of best practices; and facilitation of emergency preparedness and business continuity. Visit the chamber at www.morrischamber.org.